HaBa WaBa Montreal 2020 postponed
Please read our news release on the status of the 2020 HaBa WaBa Montreal festival.
Bring the World Together for a World Class Event of Young Water Polo Players
HaBa WaBa has become an internationally recognized water polo event for young athletes. Growing across the globe, HaBa WaBa events now take place in Italy, Canada, Greece, Spain, Singapore, Egypt, Belarus, Brazil. In 2020 HaBa WaBa will arrive to USA and Argentina!
Now in our 6th year, HaBa WaBa North America brings our festival again to Montreal for ages 6-14. We welcome international teams for another successful year! The 6th edition event will take place from June 26-28, 2020 in Montreal, Canada at beautiful Parc Jean Drapeau outdoor Aquatic complex.
The Winner of 10U and 12U category HaBa WaBa North America 2020 will qualify for FREE team registration fees, room & board at the HaBa WaBa International Festival in Lignano (Italy), Summer 2021!
One 10U and One 12U winning Malmsten Division team will receive this honor from #HaBaWaBaMTL
Teams may be co-ed, male or female
This opportunity will be awarded to teams from the continent of North America only (Canada, USA, Mexico); if the winner is from any other continent, than the highest ranked North American Team will qualify
Together with qualifying to HaBa WaBa International, the full team fees, room and board will be FREE for the duration of the event (7 nights). This includes FREE of charge for 15 players and 2 coaches per team
WHY HABA WABA?
Internationally, the Haba Waba Festival is the most visible and important water polo event for children ages 6 – 14.
The name Haba Waba is an acronym. It is derived from the union of the first two syllables of the phrase "Happy Baby Water Ball" to represent the joy of a child while playing with a ball in the water. The event was conceived and organized by Waterpolo Development in Europe and first held in 2008.
We believe that it is the most important competitive water event dedicated to 6 to 14 year-old children in the world. It involves athletes, coaches, managers, fans and families. The event is aimed at the promotion of the sport of water polo and has spread all over the five continents, in connection with clubs and federations and recognized and sanctioned by FINA, LEN and other continental organizations and Olympic Committees. The HaBa WaBa International Festival it is considered by many people the "Little water polo players' big Olympics".
HISTORY
The first-ever North American Haba Waba Event took place in Montreal over July 9-12, 2015. HaBa WaBa North America has grown each year, more professionally and competitively, inviting more teams from around the world. We've had teams from Canada, USA, Mexico, Barbados, Hungary, Taiwan and Serbia. We're getting ready for our sixth edition of this great festival!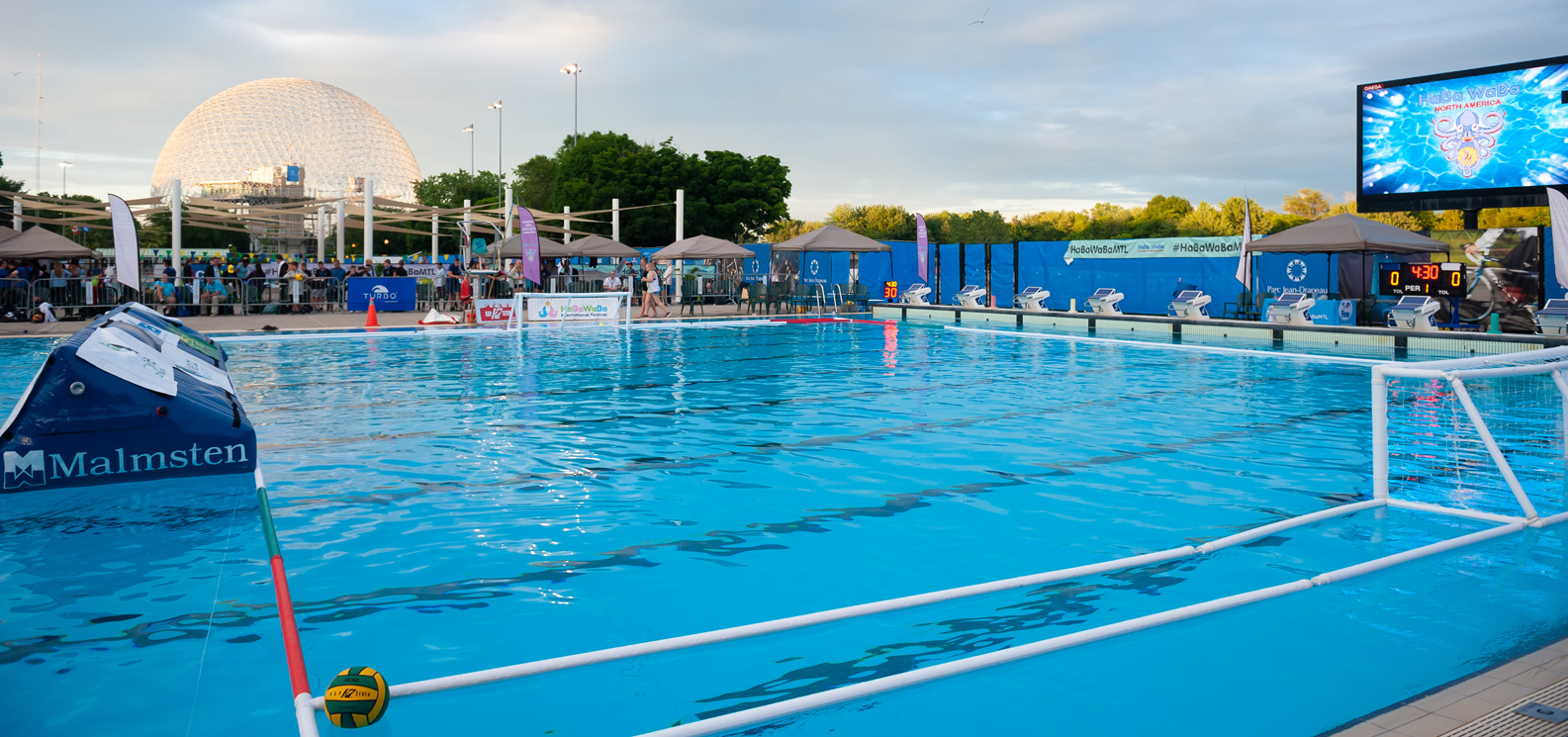 OBJECTIVES
The yellow ball in the blue water attracts both children who are not quite water safe and those who have mastered swimming. This makes for an inclusive pool sport.
HaBa WaBa's unique goal is to create water polo training for the youngest players where the only need is for small spaces and inexpensive equipment. However, HaBa WaBa takes this to the next level by offering international competitions and competitive events along with lots of fun and entertainment both in and out of the pool. This creates a festive atmosphere complete with prizes and trophies and the opportunity for young athletes to meet and spend time with their water polo idols and role models.
HaBa WaBa is the only opportunity for 6 to 14 year-old children to participate in a competitive water sport focusing on play and fun. Three categories: 14U (born 2006), 12U (born 2008) & 10U (born 2010).
By involving families we create spectators, fans and potential leaders.
The enthusiasm and interest arising from a joyful global event promotes and plants the seeds of water polo more than any other effort.
HaBa WaBa North America is officially recognized and approved by FINA and partnered with the CANADIAN OLYMPIC DAY.